AMAZON ECHO DOT—NOW WITH A CLOCK
Our most popular Echo is now even better. This version of Amazon Echo Dot has an LED display (Clock) that can show the time, outdoor temperature, or timers. Play music, get the news, call almost anyone, and control compatible smart home devices—just ask Alexa.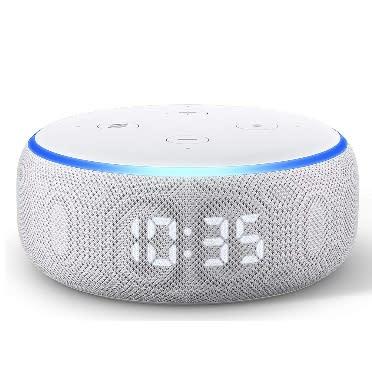 INFORMATION AT A GLANCE
Ask Alexa for a timer and see the countdown. Ask for the weather and see the temperature. The LED display also has a light sensor that automatically adjusts brightness so you can see the time, day or night.
"ALEXA, PLAY TOP HITS"
Use your voice to play a song, artist, or genre through Amazon Music, Apple Music, Spotify, Pandora, and others. With compatible Echo devices in different rooms, you can fill your whole home with music. Also listen to Audible, podcasts, radio stations, or pair with Fire TV to voice control movies and entertainment.
ALEXA IS HAPPY TO HELP
Make your life easier at home. Use your voice to set timers, add items to lists, and create calendar events and reminders. You can also check the news, weather, or traffic. Ask for sports scores, movie showtimes, restaurant hours, or information.
VOICE CONTROL MORE OF YOUR HOME
Manage compatible smart home devices using your voice. Switch on the lamp before getting out of bed, dim the lights from the couch to watch a movie, or turn the thermostat up as you head out.
KEEP YOUR FAMILY IN SYNC
Use your Alexa devices like an intercom and talk to any room in the house with Drop In and Announcements. Let everyone know dinner is ready, or remind the kids that it's bedtime. You can also make hands-free calls to almost any number in the US, CA, MX, and the UK to stay in touch with family.
ALEXA HAS SKILLS
With tens of thousands of skills and counting, Alexa is always getting smarter. Skills are like apps and help you do more, like play relaxing sounds or test your music knowledge. Just say, "Alexa, what are your top skills?"
ALEXA FOR KIDS
Make your Echo kid-friendly at no extra charge by enabling Amazon FreeTime in the Alexa app. Automatically filter explicit songs, add approved contacts, set time limits, or review activity with easy-to-use parental controls in the Amazon Parent Dashboard. Children's privacy is important to Amazon.
DESIGNED TO PROTECT YOUR PRIVACY
Alexa and Echo devices are built with multiple layers of privacy protection. For example, Echo Dot has a microphone off button that electronically disconnects the microphones. You also have control over your voice recordings. You can view, hear, or delete them at any time.
TECHNICAL DETAILS
Wi-Fi: Dual-band Wi-Fi supports 802.11 a/b/g/n/ac (2.4 and 5 GHz) networks. Does not support connecting to ad-hoc (or peer-to-peer) Wi-Fi networks.
Bluetooth: Advanced Audio Distribution Profile (A2DP) support for audio streaming from your mobile device to Echo Dot or from Echo Dot to your Bluetooth speaker. Audio/Video Remote Control Profile (AVRCP) for voice control of connected mobile devices. Hands-free voice control is not supported for Mac OS X devices. Bluetooth speakers requiring PIN codes are not supported.
Audio: Built-in speaker for voice feedback when not connected to external speakers. 3.5 mm stereo audio output for use with external speakers (audio cable not included).
Display: LED display
System Requirements: Echo Dot comes ready to connect to your Wi-Fi. The Alexa App is compatible with Fire OS, Android, and iOS devices and also accessible via your web browser. A list of supported operating systems can be found here. Certain skills and services may require subscription or other fees.
Generation: Echo Dot (3rd Gen) with clock – 2019
Size: 99 mm x 99 mm x 43 mm
Weight: 300g
*Please also note: This product is a parallel import. This has nothing to do with the authenticity of the product (it is completely authentic), but means it has been imported without the approval, or license of the registered owner of the trademark and therefore no guarantee or warranty in respect of such goods will be honoured or fulfilled by any official or licensed importer of such goods. However, any warranty claims will be covered by J AND J REWARDS or the relevant third party seller, in accordance with our standard return/refund policy.